Learn More About the Meal Program and How to Arrange Delivery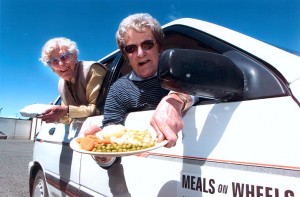 Clackamas County Meals on Wheels recipients receive a complete midday meal five days a week. These meals are carefully put together to meet much of the recommended daily allowance of nutrients. All meals are carefully monitored for food safety and nutrition standards.
Clackamas County Meals on Wheels contracts with a national food production facility that is able to produce a cost-efficient, nutritionally balanced food plan. The meal sites often add additional fresh fruits and desserts. Special meal plans are available for clients who have specific nutritional needs, including low sugar for diabetes, or soft diets for those needing easily digested food.
In addition to serving seniors' nutritional needs, our local volunteer drivers provide a warm smile and a caring spirit.
To learn more about meal services contact your nearest Adult Center or call Clackamas County Social Services (503) 655-8640 or TDD: (503) 650-5637 for the hearing impaired. After an initial phone pre-screening, a case worker will make an in-home assessment of needs to determine if a senior is eligible for in-home support services such as home delivered meals.